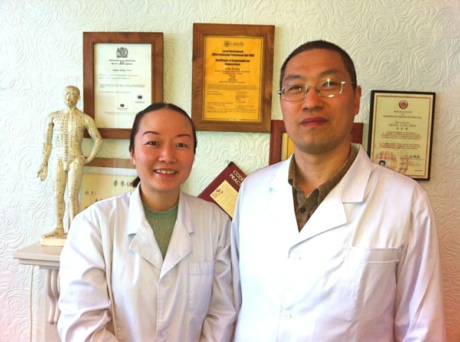 About Mr Zhang (Jeff) & Mrs Zhu (Julie)
Mr Zhang (Jeff) and Mrs Zhu (Julie) are a husband & wife team
We have achieved Traditional Chinese Medicine(TCM)senior professional titles and TCM master's degrees
We have achieved VTCT(world class qualifications) Level 3 Diploma in Reflexology(QCF)
Both of us have over 20 years clinical experience
Good at difficult problems with special skills
Very good reputation
Registrations :
We are registered with the Association of Traditional Chinese Medicine and Acupuncture UK (ATCM) which is the largest regulatory body in the UK for the practice of traditional Chinese medicine therapies. We are registered with Federation of Holistic Therapists(FHT)which is the largest regulatory body in the UK for the practice of holistic therapies. We are also registered with Leeds city council and have been inspected by their environmental health team.


Education and Qualifications :
We both graduated from China: Anhui University of Traditional Chinese Medicine. We both have been working in the Traditional Chinese Medicine (TCM) clinic for over 25 years,having previously worked for the local hospital in China for 15 years as a TCM doctor, after we achieved senior title of TCM doctor, we came to UK and worked for TCM company for another 10 years as senior TCM practitioners. So, we are more than qualified to look after our clients, we already achieved respectable results and received high praise and trust from our clients.

We have helped hundreds of couples suffering from infertility to achieve the dream of having a baby! Contact us on 01132100183 / 07584130688 or by email to discuss how we can help your general health or support your fertility or pregnancy.

We can definitely help you !
Please help us to help you !